Advanced Hardwire Kit HW1-B Single L-Shape Cable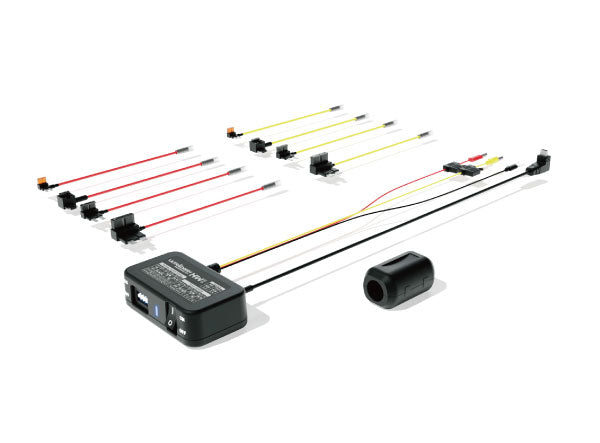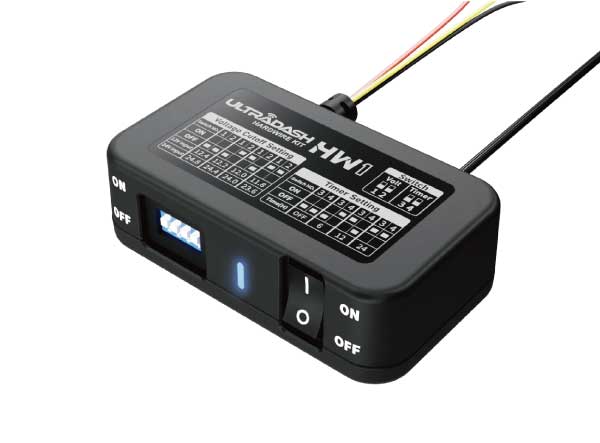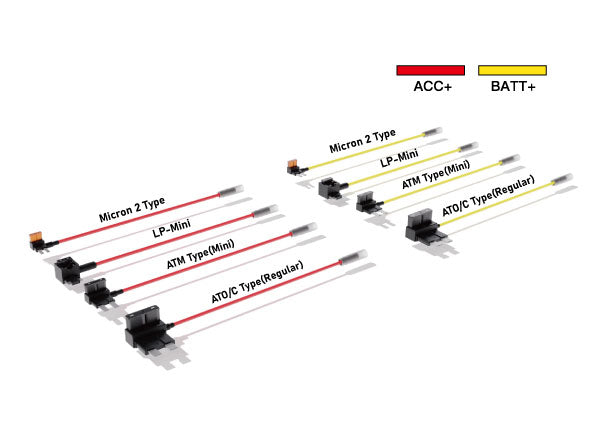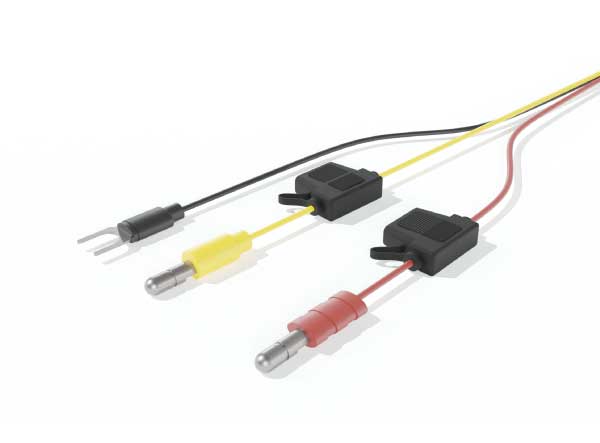 UltraDash Advanced Hardwire Kit HW1-B Single L-Shape Cable
Dash Cam Accessories: Hardwire Kit Mini USB (5 Pin) Connector with 4 Types of Fuse Tabs Equipped Low-Voltage Power Protection and Timer Function 
Specifications: Mini USB Connector (5pin), Input: 12V dc – 24V dc, Output: 5V dc 2A.
Product Size: Unit Dimension: 2.7 x 1.5 x 0.8 inch. Hardwire Cable Length: 3.3 ft. Power Cable Length: 9.8 ft.
Compatible Model: UltraDash C1 / Z3 / Z3+ and works with most mini USB connector devices (Please check and confirm your Device model or contact our Customer Service Team for support.)
Package Include: Hardwire Kit HW1-B 12-24V dc to 5V dc Regulator with the Hardwire Cable for Dash Cam x1, Ferrite Core x1, 4 Types of Fuse Tap Cable (ATM Mini, Micro2, ATO/C, LP-Mini) x2, 5V Power Output Mini USB Cable, 3M adhesive Tape x1
Note: Although UltraDash Dash Cam uses a Mini USB connector, please do not use another brand hardwire kit (power cable) to connect to UltraDash's device. We cannot guarantee the quality of other hardwire kits (power cable). When another equipment or cable's current output is less than 2A or voltage is unstable, it might cause the device to malfunction or even be unusable.
Suppose you want Parking Mode to work continuously and extra space for the cigarette lighter (12V Socket) without exposing wire entanglement in your vehicle. This set of hardwiring kits will be the best choice for your dash cam power supply equipment!
Hardwire Kit Intro
This Hardwire Power Supply Kit connects the dash cam directly to the fuse box in the vehicle. It does not cut off power when the car is turned off if connected to both ACC Power and Permanent (Always Hot) Power. It effectively ensures the continuous operation of the parking mode function. HW1 is equipped with two functions, Low-Voltage Power Protection and Timer function. When the car battery drops to the limit you set, its automatic power-off process will cut off power and effectively protect the car battery. It will leave you with enough power to start your car. If you are not familiar with the wiring installation, please consult a professional installer or vehicle technician to start the installation to avoid damage.
Low-Voltage Power Protection Function
When the vehicle battery is lower than the set voltage, HW1 will automatically cut off the power supply with the vehicle. Two switches (#1 and #2) can adjust the corresponding voltage settings on HW1. The LED indicator will turn off when the HW1 is disconnected from the power supply. When the vehicle voltage returns to the recovery voltage, HW1 will automatically connect to the power supply with the vehicle.

Setting 1: Cut off at 12.4V or 24.8V. Restore at 12.7V or 25.2V. ( Switch 1 is OFF and Switch 2 is OFF )
Setting 2: Cut off at 12.2V or 24.4V. Restore at 12.5V or 24.8V. ( Switch 1 is OFF and Switch 2 is ON )
Setting 3: Cut off at 12.0V or 24.0V. Restore at 12.3V or 24.4V. ( Switch 1 is ON and Switch 2 is OFF )
Setting 4: Cut off at 11.8V or 23.6V. Restore at 12.1V or 24.0V. ( Switch 1 is ON and Switch 2 is ON )
Timer Function

The timer can determine the power supply time of HW1 and adjust the corresponding time through the two switches (#3 and #4) on HW1. When the set time is reached, HW1 will automatically cut off the power supply with the vehicle, and the LED indicator light will go out. Once HW1 detects the ACC signal or the vehicle is started, the timer will start counting again, which means that the timer will be reset every time the vehicle is started and turned off.
Setting 1: Won't cut off. ( Switch 3 is OFF and Switch 4 is OFF )
Setting 2: Cut off after 6 hours. ( Switch 3 is OFF and Switch 4 is ON )
Setting 3: Cut off after 12 hours. ( Switch 3 is ON and Switch 4 is OFF )
Setting 4: Cut off after 24 hours. ( Switch 3 is ON and Switch 4 is ON )
Basic Hardwire Kit vs Advanced Hardwire Kit HW1
| Type of Hardwire Kit | Basic Hardwire Kit | Advanced Hardwire Kit HW1 |
| --- | --- | --- |
| Low-volt Protection | ✅ | ✅ |
| 4 Settings for Low-volt Protection | ❌ | ✅ |
| 4 Settings for Timer | ❌ | ✅ |
| Replaceable Output Cable | ❌ | ✅ |
| Shape of DC-IN Cable | I-Shape | I-Shape or L-Shape |
| Number of Power Outputs | Only One | Up to Two |
| L-Shape Cable Design for C1/Z3 Power Magnetic Mount | ❌ | ✅ |
| To Activate Parking Mode | ✅ | ✅ |
| Intelligent Detect ACC Power When Parking Mode is ON | ❌ | ✅ |
| Fuse Tap Cable | Can only be connected to either permanent or ACC power supply. | Two sets of fuse tap cables, the yellow one is connected to the permanent power and the red is connected to the ACC power. |
| Power LED Indicator   | ❌ | ✅ |
Installation Guide
UltraDash HW1 Advanced Hardwire Kit User Instruction Manual
For detailed installation, please refer to our article: How to Hardwire Dash Cam Installation Guide Step-by-step