UltraDash Z3+ Dual-lens Dash Cam (Commercial) For Uber/Lyft/Taxi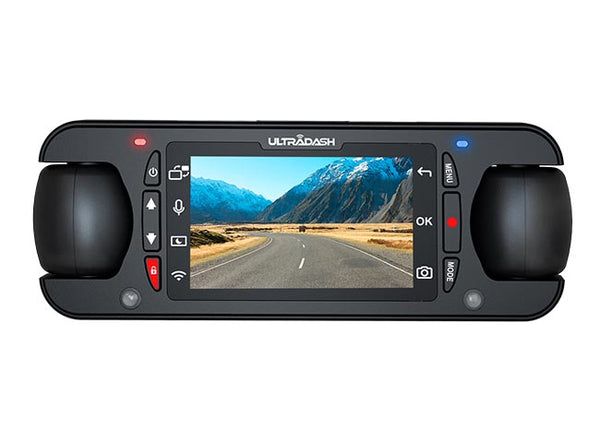 UltraDash Z3+ Product Description
-

Your Best Road Buddy 

-
The UltraDash Z3+ is the latest generation of our dual-lens dash cam that help you to drive with peace of mind and protect you and your car 24/7. 
-

 YouTuber Testimonial

-
USA


JAPAN

TAIWAN


-

Solid references in courts & insurance claims

-
Whenever you're driving out on the road, there is always a chance that you could get into a car accident. It could be anything from a rear-end collision caused by a distracted driver to a scratch or hit from a driver hurrying to back out of a parking lot. And, with so many factors, it can be difficult to place an insurance claim or provide footage that can be used in court when an accident happens.

We understand the stress and worry. That's why we've invented the UltraDash Z3+. With our unique take on the smart yet simple idea of a dashcam, we want to provide the solution to driving accountability, one car at a time.
With UltraDash Z3+ set up in your car, you can breathe easy. Our two-lens dashboard camera with loop recording and auto file protection provides you with tremendous peace of mind while driving. Because you can record two directions at once, it's easy to make sure that the information you need is caught on camera!
- Dual 2K Quad HD high-resolution image quality -
UltraDash Z3+ adopts real 2K Quad HD (QHD 2560 x 1440 Pixels) high-resolution picture quality to perfectly present. 2K QHD high resolution is 80% stronger than Full HD 1080P resolution. In addition, unlike the false 2K presented by interpolation technology used by some white-brand products, UltraDash Z3+ insists on providing real 2K and high sharpness, high definition, and vivid colors to restore your driving footage.
- Patented Magnetic Charging Mount -
Our patent-designed magnetic charging mount (Patent No. US 9,900,480 B1) allows you to place and remove the device quickly and easily, unlike traditional mounts that use a latching mechanism. We rigorously test the powerful magnets and unique structural design, so there is no need to worry about mounting or connection problems.
The magnetic charging mount is equipped with a charging port, which uses the car charging cable and USB cable to charge the device. This reduces the inconvenience of attaching and removing the device, and the wire arrangement in the car is seamless.



-

180-Degree Rotational Lens -
Our UltraDash Z3+ has two 180-degree rotatable lenses. With their extreme mobility, you can point them any direction you want! They record simultaneously. The left lens is a 140-degree wide angle IR cabin lens and the right lens is a 140-degree wide angle lens. This is helpful whether you want to record the traffic and record your conversations with your passengers.

- Loop Recording -
It's irritating when your camera doesn't record vital information because it doesn't have room to store it. Unlike action cameras, digital cameras, or regular video recorders, our Z3+ doesn't have a problem with memory capacity. Unfortunately, we didn't invent an unlimited memory storage system. However, we did equip our Z3+ with the next best thing! Loop recording enables the Z3+ to automatically overwrite the oldest, non-protected video files with the latest video. This means the Z3+ can keep recording, even if its memory becomes full!

- Hot Keys -
The Hot Key functions were designed to protect both you as the driver and the other drivers on the road. These keys are positioned around the 2.7 inch LCD display of the Z3+ and are clearly labeled for easy accessibility.
- Daytime / Nighttime Image Quality -

UltraDash Z3+ uses a 500 mega pixels high-end Sony Starvis image sensor component with an F1.8 large aperture six-glass lens. It offers vivid color, and with its HDR functionality, it also produces high-quality nighttime images by enhancing the suppression of over-exposure under intense light. View the actual picture quality in the test footage.
- 2.7-Inch Display -
The Z3+ is equipped with a 2.7 inch LCD screen so it's easy to operate the camera, see what the camera's recording in real time, and watch playback later.
- High and Low-Temperature Resistance -
The storage temperature for this device is between -4℉ - 176℉ (-20℃ - 80℃), and the working temperature is from 14℉ - 140℉ (-10℃ - 60℃). This resistance means that you can continue using the UltraDash Z3+ wherever you are. Whether in the hot desert or cold regions, keep recording.
- Auto File Protection -
There are definitely moments in video footage that are more important than others, such as the moment of incident or impact. To ensure your vital files are saved, we added an auto file protection function to the Z3+. Whenever the camera detects an external force on your car, the file protection feature will automatically lock the footage surrounding that moment, protecting it from being overwritten in the loop recording function.
-  iQ Player PC Playback Software and GPS Logging -
With the GPS Logger magnetic charging mount, you can record the speed you're driving and coordinate with an accurate time for your drive. Download the iQ Player on our website, and you can check the drive route on the iQ Player. This function is especially useful for companies with an entire fleet of vehicles.
- iQ Viewer Mobile Phone Playback Software APP -
In addition to computer playback software, we have also developed Apple iOS and Android dash cam playback APPs for mobile phones to operate Z3+ through a wireless network connection between a mobile phone and UltraDash Z3+ by using iQ Viewer. The functions include live-streaming within a short distance, remoting control recording function, operating menu settings, playback video, downloading video to the mobile phone, and sharing it with your friends or insurance companies.
-

Parking Mode (Optional) -
With our specially developed parking mode function, the UltraDash Z3+ will stay in a standby mode in conjunction with our Hardwire Kit or Advanced Hardwire Kit HW1 In this mode, the device can detect an impact above the normal level, recording events that could damage your vehicle such as a hit and run driver. Also, the Hardwire Kit or Advanced Hardwire Kit HW1 has an automatic power cutoff function. When the device detects that the car battery is below a certain level, it will cut off power to prevent draining the battery. (Hardwire Kit or Advanced Hardwire Kit HW1 is sold separately.)
Vibration Detection: When the device detects force or impact, it will automatically start recording suspicious behavior.
Time-Lapse: When the engine is turned off, the device will begin capturing time-lapse photos until the next time the car is started or until triggered by a timer or voltage threshold.
Note: Time-lapse requires updating to the latest firmware for S3/Z3+ in order to be used. 
💡 Attention 💡
Hardwire kit (need to be purchased additionally). It can be connected to the fuse box on the car to achieve a permanent power supply. We have designed a low-voltage protection function. When the chip detects a low car battery, it will cut off to prevent the battery from running out, so you can use it with peace of mind and don't worry about the power consumption of the dash cam. For installation suggestions, please get in touch with your local reliable, high-quality professional auto department store/car maintenance factory/car audio shop for installation. Extended reading: HOW TO HARDWIRE DASH CAM INSTALLATION GUIDE STEP-BY-STEP.
- Real 2K Quad HD IP67 Waterproof Rear Camera R1 (Optional) -
To also protect the rear of your car, we developed this UltraDash R1 rear camera, which has a high resolution of 2K Quad HD (QHD 2560 x 1440 Pixels) to be compatible with UltraDash Z3+, becoming an actual 2K + 2K + 2K three channels front and rear dash cam. UltraDash R1 rear camera uses a 5-megapixel Sony Starvis image sensor with a 160-degree ultra-wide A+ high-standard high-resolution 1.8 large aperture waterproof lens, allowing you to cover the rearview without dead ends, and can reach IPX67 dustproof and waterproof level. You can freely choose the installation method without drilling holes and stick it on the top of the rear windshield with 3M adhesive tape, or ask a professional installation mechanic to help you drill holes and install it on the body of the rear trunk above the license plate.
UltraDash Z3+ Edition Comparison
-

Standard VS Commercial 

-
The UltraDash Z3+ has two editions: standard and commercial. The standard edition features one wide angle lens and one telephoto lens. The commercial edition features one IR cabin lenses and one wide angle lens for traffic.
This edition is designed with general users in mind. It works great for daily commutes! 

Both lenses record simultaneously. The wide angle lens captures more up-close traffic and cars, while the telephoto lens records in a magnified way, to record objects that are farther way, like license plates, road obstructions, etc. Because both lenses are rotatable, you can record traffic ahead of you and behind you at the same time. No need to install two separate cameras – the Z3+ is the only camera you need!
Commercial
This edition is designed especially for taxi drivers or other professional drivers. 
If you have an unwanted passenger, being able to record and save footage of your driver-passenger interaction can help protect you by giving you control. The commercial edition features an interior wide-angle infrared cabin lens for professional drivers, making it easy to record traffic and in-car interactions simultaneously. This camera includes a microphone so you can record any conversations in your car. When the ambient light source is insufficient at night, the infrared light will start to fill light and switch the picture to black and white to make the footage inside the car clearer.  
Important note: If you use the Z3+ or any other camera to record inside of your commercial vehicle, you must have a warning sticker on your car to inform your passengers that they are being recorded.
- 

Testing Footage 

-
Watch the videos below to see how well UltraDash Z3+'s image quality compares to other dashcams!  
Note: Both editions come with a built-in microphone which you can turn on/off for voice recording.
Remember to set the video quality to 2K(2560 x 1440) resolution by clicking the gear button at the bottom of the video screen to ensure you view the crystal-clear footage the Z3+ can capture!
You can use the iQ player's editing function to output the video as PIP style as below. 
Z3 testing footage for your reference:

-

DO YOU WORK ON THE ROAD? -
With the advance of app-based professional transportation, it's more important than ever to ensure your safety as a driving professional. We know that security is a major concern for all professional drivers. With the UltraDash Z3+, you can keep a watch on the traffic around you, and on the passengers in your vehicle. With the Z3+, you'll always have footage you can use to help with insurance claims or to present in court.

-

Accessories 

-






- Design Concept -
Our team has been devoted to developing dash cams for many years. Unlike most dashboard cameras which are just black plastic boxes to users, we believe they should be more than just another electronic product. They should be a stylish car accessory that helps elevate the interior design of your vehicle. We've taken inspiration from the exterior and interior of various vehicles and continuously experimented with shrinking the product size to fit perfectly behind the rearview mirror. We've made every effort to meet all user accessory needs and provide maximum convenience. Our goal is to enhance your driving experience with our designs and innovations and we appreciate all the support from our users!
Specifications:
File Format: Video: MP4. Image: JPG
Resolution: 2K QHD (Left camera) + 2K QHD (Right camera) 
Audio Recording: Support
Super Capacitor: Built-in
Loop Recording: Oldest file will be automatically deleted in order to make room for new file
Information Stamp: Support
Parking Mode (Optional): Support vibration detection, Hardwire kit is sold separately
Rear Camera (Optional): Support, UltraDash R1 is sold separately
Memory Card: Support up to 256GB, U3 or higher speed Micro SD Card (not included)
Language: English
Storage Temperature -4°F to 176°F.
Operating Temperature: 14°F to 140°F. (Please remove device from windshield if temperature exceeded limitation)
Ultra slim design for easy setup and convenient installation
What's Needed: 
Micro SD memory card 32-256GB SDHC, U3 speed. Please use a recognized brand for best result. We recommend using SanDisk High or Max endurance Micro SD card.

Package Includes:
UltraDash Z3+ (Standard Edition) Dash Camera / GPS Magnetic Suction Mount / 3M Adhesive Mount / Static Side Film / 13ft. Car Charging Cable / 4ft. Data Cable / Cable Clips / User Manual

Note:
The life of SD Cards is limited but it could be from 3 months to a year or more depends on usage, be sure to format the memory card once a while for optimal use. (Replace memory card when it's become unusable).